Maximize your Field Research experience
And leverage the best features of the Substack platform
Hey Friends,
After getting blitzed by the NFL's myriad horrors last week I'm taking a brief respite from creative work.
If you just signed up for this madness, or missed either of last week's must-read satire pieces, make sure to check them out here:
Now that you've read or "tabbed" both stories — and haven't yet unsubscribed — I want to do two things in this post.
First, let's discuss some tips for how to best enjoy Field Research, as well as all your Substack-based subscriptions.
The key driver behind Substack's rapid growth and popularity is that it's email-based. Readers only sign up to read what they want, and the content is delivered directly to their inbox.
Algorithms and artificial intelligence and aliens will all struggle to supplant staid, boring, ubiquitous, indomitable email.
The irony here is actually reading your favorite Substack publications via email kind of blows.
Stories get buried in your ever expanding mountain of messages. Or jettisoned to your dreaded spam box or "promotions" tab. Links break. Posts get clipped. Images compress. The font sucks. And there's no dark mode.
Perhaps most annoying, you can't interact with built-in features like Polls or embedded YouTube videos — or even leave a comment or hit the "like" button — without getting yanked into a new browser tab.
All this while that sinister word "Inbox" eyes you like Sauron. Summoning you to abandon your current message in search of a newer, fresher dopamine hit.
Luckily, better tools beckon.
The absolute best way to read Substack stories is via your computer's internet browser (e.g., Chrome, Safari, Edge).
Don't laugh!
It's extremely old school, but look at how neat and clean those Field Research webpages are!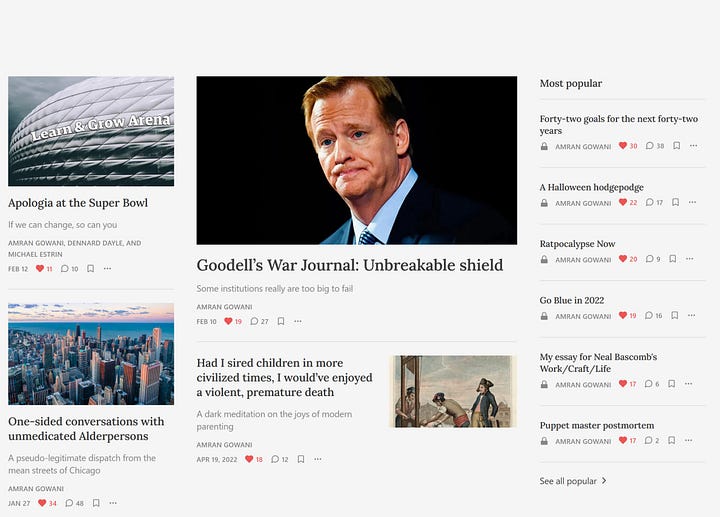 No pop-ups. No ads. No solicitations. No moving parts.
Just demented musings from a middle-aged lunatic.
Moreover, the web browser allows you to take full advantage of the "social networking" features created by Substack.
Namely, you can:
Manage your "Substack" inbox, where all your posts reside

Peruse the archives of your favorite publications

See what publications your favorite writers recommend

Search for new publications via the "Discover" tab

See who's liked or responded to your pro-replacement theory comment

Bookmark stories to read later

Manage your Substack profile, free and paid subscriptions, and payment information
These community tools are simple, yet powerful.
For example, last summer
subscribed to
Field Research
after we exchanged comments at
's
Here's Something
. I then subscribed to Michael's
Situation Normal
, which led me to
's
Extra Evil
, which led to the formation of Virtuosity and us
rescuing American democracy
, which led to our subsequent rebrand to Apologia and the absolute monster piece of Super Bowl satire you should've read by now.
👆👆👆👆👆👆👆👆👆👆👆👆👆👆👆👆👆👆👆👆👆👆👆👆👆
Bookmark Field Research (or your other favorite Substack publication) log in to your account, and watch internet miracles happen.
Of course, reading on a laptop or desktop is most practical when you're shirking work or avoiding your children.
When you're on the go, or self-medicating in bed, the second best way to read your favorite Substack publications is via the app.
Much of the webpage's functionality is reduced, but you'll still have access to your inbox, library, search functions, and the app-exclusive mobile chat tool.
Most importantly, the reading interface is pretty and pleasant.
Questions, thoughts, ideas, concerns?
Preemptive note: I promise I'm not going to write about paid subscriptions or beg you for money every week! I'm simply laying out my business plan once more while it's fresh. The next update will come during late summer.
The second thing I want to do is briefly discuss my paid subscription model.
At the beginning of the year I launched paid tiers and articulated my reasoning and (alleged) value proposition in the following post. It's worth a read for the jokes alone.
As discussed previously, I have no illusions about "making a living" from writing Field Research. However, I also don't want to set expectations so low that I devalue my own work.
With that in mind, I've dreamt up two tangible, if challenging, long-term goals:
Total subscribers: at least 2,000

Paid subscribers: at least 150
Ambitious? Unrealistic? Delusional? Maybe. But life is a finite experiment, so why shouldn't I go for it?
I'm thrilled to have just hit 420 total subscribers! Hearty thanks to each and every one of you for being here and reading each week!
Substack's data team says roughly 3% to 10% of free subscribers eventually convert to a paid subscription.
At 420 total subscribers, and with a year of quality writing under my belt, that conversion rate suggests I should have somewhere between 13 and 42 paid subscribers.
Right now I have nine, which isn't quite at the bottom end of the range. Of the nine who have paid — thank you! — I've gifted complimentary subscriptions to their respective spouses or other household members. I've also exchanged complimentary subscriptions with several Substack writers and gifted subscriptions to my wife and my son's preschool teachers.
If you're a hustling writer (or artist of another sort), are in high school or college, or find yourself in financially precarious waters, I don't want your money. Email me at agowani@gmail.com and I'll hook you up with a free gift subscription.
On the other hand, if you've been reading for months, and my stories have become part of your routine, and bring you joy or laughter or rage or despair, and you have the financial means to support me, I'd be grateful if you took out a paid subscription.
One hundred and fifty paid subscriptions would generate about $7,500 in gross annualized revenue. That's a solid chunk of money. And while it's not nearly enough to survive in America, it's more than enough to run a self-sustaining writing business while also being a full-time stay-at-home-dad.
You're probably thinking, "Fine, but what do I get for my money
?"
The reality is, since I'm not already famous, I don't have much to offer except a vivid imagination, a quality at all costs ethos, and a warped sense of humor.
Talented culture writer
of
Ponytail Press
summed up the
Field Research
value proposition better than I ever could with this killer blurb:
"Amran Gowani takes big bites out of contemporary issues with his jagged-toothed satire and sharp eye for the absurd. Reading Field Research each week will help remind you that you're not crazy."
If that resonates, and you're a "fan" of my work, and you've been thinking to yourself, "You know, I really love this nonsense and want to support this maniac but just haven't gotten around to it," then please do so today
.
A few final notes.
If my prices
($48 per year or $5 per month) aren't right for you, or you're afraid of commitment, or are worried about the Substack Deep State, feel free to send me whatever you think I'm worth via these channels:
Zelle to: agowani@gmail.com
Venmo to: @Amran-Gowani-1
Lest you be afraid three dollars will offend me, it's more than the zero I've currently received.
Finally, if you don't ascribe any value to my writing, consider my decaying body and condominium.
I likely have a torn meniscus and/or ACL and soon I'll be slowly then all at once bankrupted by the U.S. healthcare industrial complex.
Also, owing to decades of financial mismanagement, underinvestment, and good old-fashioned incompetence, my 130-year-old vintage condo continues to crumble. We need deck repairs and a new hot water heater and will face innumerable future nightmares
.
Hence, another way to think about your potential subscription to Field Research is as a Go Fund Me for aging, obsolescent, soon-to-be-inoperable objects.
Thanks in advance for your support.
Up next
On Friday, February 24 at 9:30 a.m. CT all subscribers will receive a genre mashup of geopolitical and parental horror. This one's got potential.
See you then!
Amran
1
Full archive access, periodic paywalled stories like this one, paid subscriber threads (including one happening right now!), and — if you're so inclined — a character named after you in one of my pieces.
2
This entire Substack endeavor may or may not be viable as a side business. The sooner I figure that out, the better I can tailor my offering.
3
Substack established a monthly price floor of $5. Good for Substack, Ann Coulter, Glenn Greenwald, and Matt Taibbi. Probably not good for randos like me.
4
At least I've got a monster story idea in the works.