Rudolph's War Journal: Back from the brink
The light always beckons
Hey Friends,
If you're looking for festive and merry you should know by now you've come to the wrong place.
That said, the intent of this depraved and utterly ludicrous piece is to leave you feeling hopeful. Just make sure to read it when you're in the right state of mind.
I wish you and your family a peaceful, joyous, love-filled holiday season.
Amran
---
Dear Journal,
I've been to dark places.
I've committed unspeakable crimes.
I've gone through hell and back.
Tonight's my chance at redemption.
---
When you save Christmas before hitting puberty there's nowhere to go but down.
First, you're lauded as a hero. You become famous. A star. With that stardom comes the spoils: girls, boys, drugs, money, whatever you desire.
These are the good times, and they're worth every second.
Snorting cocaine off a Bengal Tiger's crotch — while every exotic creature you can imagine humps and thrusts and licks arounds you in an adrenaline-fueled interspecies orgy — is an experience like no other.
But good times don't last forever.
Complacency comes next. The luster fades. Your star recedes.
Everyone still knows you, but your aura — your mystique — dissipates. Sure, the groupies remain bountiful, but you're no longer top deer. You have to settle for Simba's sloppy seconds, or Beast's abused ex.
The coke stops working, but the emptiness remains. So you graduate to heroin. Then fentanyl. Anything to stay numb.
Next, the paternity suits appear. After DNA tests confirm you've sired thirty-one fawn, seven half-antelopes, and novel half-crocodile and half-lemur chimeras, you pony up for the child support progeny unseen. You'd rather not know, and you definitely don't want visitation rights.
Your bills mount.
Then Amazon acquires Sinterklaas Global Enterprises — your employer. All the sudden you're a gig worker. No more health insurance. No more 401-K. No more pension.
Combine their global distribution network and ruthless corporate ambition with the decadent West's unquenchable consumerist thirst and every day becomes Christmas Eve.
You're overworked, underpaid, exhausted.
You grind out a living just to sustain your drug and sex addictions.
Posing for photos in Beijing. Stamping autographs in Tokyo. Working bachelorette parties in Vegas. Flying opium out of Kabul.
It's not enough.
Desperation creeps in.
So you do a stag film for Brazzers.
Then things really get dark.
Disney bans you, your sponsors dump you, and Amazon sacks you.
You're radioactive. Nobody's interested except the tabloids.
You're worse than irrelevant.
You're disgraced.
---
You spend those post-cancellation months rage-reading Breitbart. Then 4chan. Then 8chan. Your eyes are finally open.
When the pandemic hits you know the virus is a Chinese bioweapon engineered in a "gain-of-function" laboratory. Credible, independent, unbiased journalists on Substack told you so.
Then you get a little Q-curious.
Then you become a true believer.
Before you know it you're "Cuckoo-for-Q."
Those snakes in Hollywood shunned you because they're all Satan-worshipping, Soros-backed child molesters orchestrating a clandestine globalist takeover from the shadows.
You're just another victim of their machinations.
You seek answers. You seek the truth.
That's how you end up meeting the Warriors of Q — Elsa, The Abominable Snowman, Dopey, and Aaron Rodgers — at an abandoned World War II artillery depot nestled deep in the Black Forest.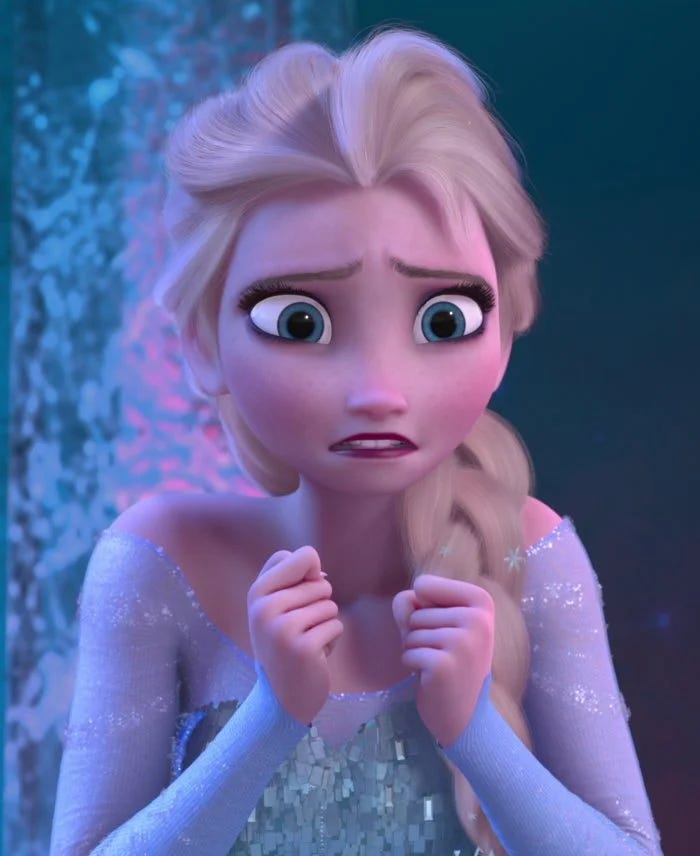 They've kidnapped Bambi and Thumper.
Elsa tells you ritually sacrificing them will prove they're undercover lizard-people trafficking innocent gentile children for sexual exploitation. Aaron Rodgers says the bombshell revelations will expose the entire conspiracy and save the world.
You're convinced.
Bambi whimpers and Thumper pleads as you impale them with your antlers. Their blood — warm and red, like yours — gushes, drenching the snow-covered ground.
The Warriors of Q abandon you.
You've hit rock bottom.
---
On your knees, you bury your snout in the snow. The wolves will arrive soon. Nothing's left but the end.
Moments pass, then an ice-cold stick scratches your neck. You look up: Frosty.
He plops down, cradles you, hugs you tight. Says you need help. Makes a call.
An Amazon helicopter touches down within the hour. Santa emerges from the cockpit. He surveys the scene, worriedly shakes his head, says you've really done a number on yourself this time.
They get to work immediately.
Frosty erects an igloo to conceal the crime scene. Santa furiously mans the phone. An hour later Smokey Bear's cordoned off the entire forest. The Huntsman's been summoned for clean-up duty.
You sit in the snow, lifeless, opioid withdrawal paralyzing your shellshocked body. Santa, Frosty, Smokey, and the Huntsman enter the igloo. You hear sawing and tearing and ripping.
The Huntsman rolls a wheelbarrow into the igloo, then hauls out a mound of flesh. To honor their sacrifice, he tells you, the meat will go to a local foodbank.
Frosty deconstructs the igloo. Santa piles up the remaining evidence and Smokey sets it ablaze. When the flames die down Smokey bags the ashes. He tells Santa to scatter them over the ocean, just to be sure.
They shake hands, sticks, and paws.
Smokey vanishes beneath the tall trees. The Huntsman takes Bambi and Thumper's mortal remains to the nearest town. Santa and Frosty load your shivering carcass on the helicopter and the three of you fly to Frankfurt. From there you board one of Bezos' private jets and depart for Helsinki. Bambi and Thumper's souls take their final resting place over the Baltic Sea.
Crisis averted.
Now your true ordeal begins.
---
My friends get me the help I need, Journal.
They're more than friends — they're family. They love me.
With their support I kick the drugs, then down enough anti-depressants to drop Dumbo. Months of intense cognitive behavioral therapy follow.
I learn to take accountability for my actions.
I learn to forgive others.
I learn to forgive myself.
Santa's friends at the EU force Google to sanitize my search engine results.
Mrs. Claus pulls some strings and lands me a spot on the celebrity version of The Great British Bake Off. I don't win, but my performance does wonders for my reputation.
I make reindeer-shaped cookies on TikTok and pen a monthly pro-democracy column for Foreign Policy magazine.
Parents take pictures of me with their kids at malls again. I smile, and I mean it.
Almost a year since my darkest moment, I'm back with Amazon. And tonight, for the first time in years, I'm flying point on Santa's sleigh. Delivering holiday cheer to a world in chaos.
I can't change the past, Journal, but I can influence the future. I can choose to do better. I can choose to be better.
For that, I'm truly grateful.
With love this holiday season,
Rudolph
---
---
From the archive
If your black heart desires more Christmas-themed madness, or you need another reason to avoid your kids or in-laws, check out these selections from last year.
Santa throws shade on my ungrateful children:
These wonderfully depressing Christmas songs presage your bout with Omicron:
The OG War Journal, which alludes to Rudolph's fall from grace:
---
Up Next
On Saturday, December 31 at 9:30 a.m. CT, we'll look at horoscopes for the upcoming year.
See you then!
Amran